Our cuvées
Domaine Gouron
Domaine Gouron offers a wide range of red, rosé and white wines. The estate's wines are remarkable for their uniqueness and the way they faithfully express the grape variety.
Our range of reds consists of four very different cuvées:
La Croix Boissée also produces a white wine from Chenin blanc grapes.
Our Rosé comes from soils that bring freshness and fruit.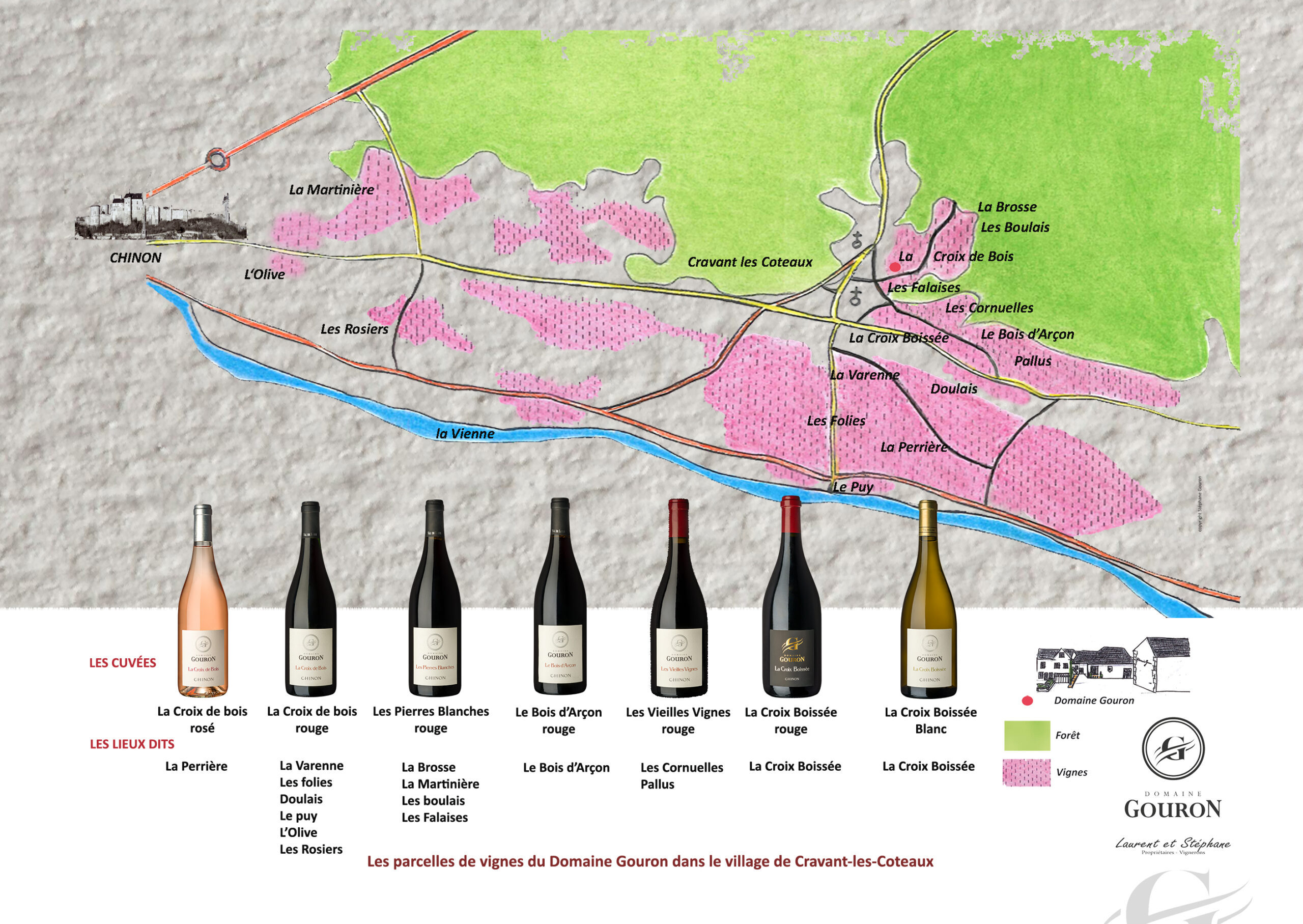 AOC Chinon
Chinon, south of Tours, is the birthplace of François Rabelais.
The Chinon appellation (AOC), between two rivers, the Vienne and the Loire,  was created in 1937,  and covers 26 communes and 2400 hectares of vineyards.
The village of Cravant-les-Coteaux is one of the largest areas of the appellation, and offers a variety of polysensory landscapes.
The subsoil was formed 90 million years ago over a limestone substratum that goes down a hundred metres.
The hillsides stand out as characteristic features of the landscape. Yellow tuffeau, made of shelly debris, prevails on the slopes, whereas the plateau is mainly sandy clay with conglomerated flint pebbles.
In the valley carved out by the river, layers of soft tuffeau were covered by alluvial deposits which now form sand and gravel terraces with well-drained soils.
The wind rose shows that the dominant winds blow from west to east, making our local climate the warmest and driest in Touraine.
Grape varieties in Chinon:
Cabernet Franc (red) expresses the essence of its character here at its northern limit.
Chenin Blanc is the grape variety for great Loire Valley whites. In Chinon it gives us very fine dry white wines.